our story
The seeds of Sunterra took root on the family farm over 40 years ago in Acme, Alberta. With superior hogs and industry-leading practices, the farm grew bigger and better. To showcase the top quality meat and provide customers with a unique European-style shopping experience, Sunterra Market launched in downtown Calgary at Bankers Hall in 1990. Since then we have been working tirelessly to exceed customers' needs in our nine markets across Alberta.

At Sunterra, our purpose remains constant: to nourish our customers with affordable, fresh, wholesome food.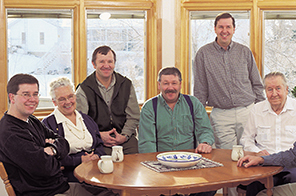 THE PRICE FAMILY
Sunterra was founded by Stan and Flo Price. Today the business is run by their children and grandchildren, who continue their legacy of innovation and quality.

As family-owned company we value many things, like our loyal customers, quality products, hard-working Team Members and the communities in which we operate. From farm to market and right through to our customer's table, we consistently operate with honesty, integrity and pride. We may be in the fresh food business, but our first priority is to be good to those around us.